Paralysed from the chest down and yet Sven (35) covers 12,000 kilometres every year on his Stricker handbike.
Covering over 45,000km with a handbike in just 4 years - a Belgian newspaper report 
Paralysed from the chest down and yet Sven (35) covers 12,000 kilometres every year on his Stricker handbike: "After my accident I quickly regained courage".
"After this accident I decided not to let myself get down." Sven Ongenae (35) from Ham, a small town in Belgium, truly is an inspiration for many people with disabilities. After being paralysed from the chest down in a traffic accident, he can be seen on his handbike almost daily. In this way, Sven has covered more than 45,000 kilometres in the last four years. And doesn't even think of stopping.
Sven has always been very active, even before his accident. "I used to run and cycle a lot and I regularly went to the gym." Everything changed on 11 September 2009, Sven's fateful day. He was barely 24 years old when he went to work that day.
Broken cervical vertebrae
"I was on my scooter on my way to Iko Sales, a factory specialising in roofing, where I was working at the time as a maintenance technician. This is when the accident happened. I broke a number of my cervical vertebrae. I was immediately taken to the clinic in Leuven, where I underwent emergency surgery. Soon it was clear that I would have to rely on a wheelchair for the rest of my life. Since then I have been paralysed from the chest down".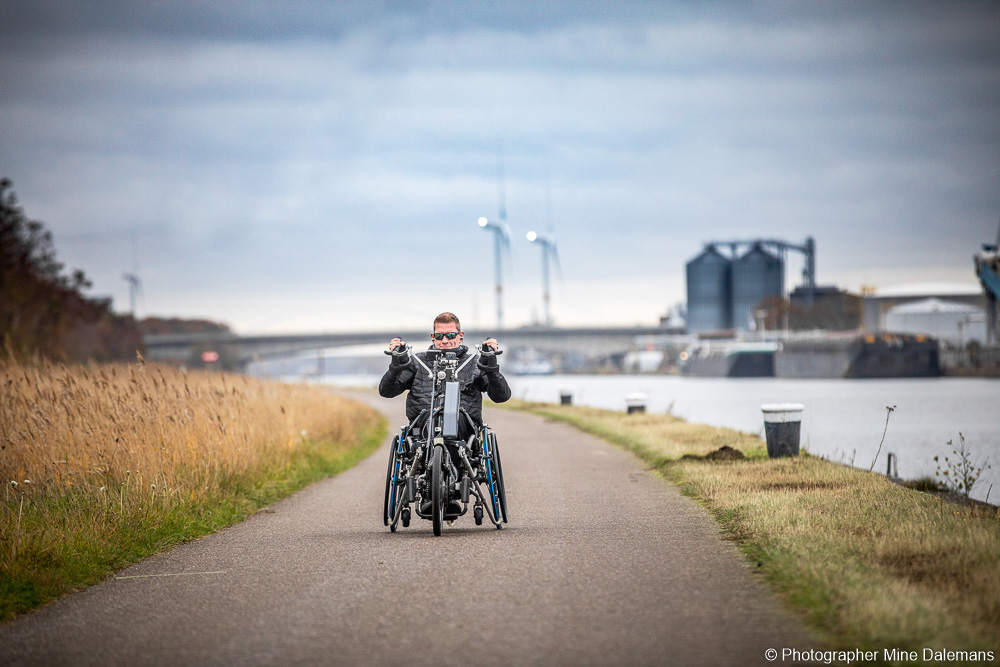 Sven spent some time in hospital, followed by an eighteen-month rehabilitation in Pellenberg. This was followed by an ambulant rehabilitation at the Sint-Dimpna hospital in Geel, where Sven also received movement and occupational therapy. "Even then I had decided not to give up. In anticipation of my first handbike, I had already covered 230 kilometres with my manual wheelchair in 2011. That may sound boring, but I've never seen it this way. I've stayed positive and was always able to immerse myself in good music I was listening to."
Later when the handbike finally arrived Sven has thrived even more. He has become a passionate athlete. "With my first handbike I covered 25,000 kilometres in five years. That there was still plenty of room for improvement was something I would learn a little while later because after only four years I had already covered more than 45,700 kilometres with my second Stricker Handbike model, a Neodrives. Now, in autumn, I was able to cover 700 kilometres in ten days, which is an average of 22 kilometres per hour. It would be nice if I could soon crack the 50,000 kilometres.
Strong family support
With his positive attitude towards life, Sven is a fantastic example and inspiration for many people who are experiencing difficulties in these challenging times. "Personally, I don't suffer much from the COVID-19 crisis," says Sven. "On the contrary, this has given me the opportunity to handbike an considerable amount of kilometers. Between March and September 2020 I cycled 12,000 kilometres. I also know that I can always count on the support of my parents, my brother Björn and my wonderful wife. When I have a flat tyre, my father is always happy to help me immediately. And if I ever need spare parts, Gino from Chaos Carbon Bikes is there for me".
We thank Sven warmly for sharing the Belgian newspaper article with us. The original article can be found here: https://bit.ly/3lWQEE4.