Our Stricker Neodrives is being tested in everyday life by Werner Pohl from RehaTreff, the magazine for people with limited mobility.
Behind the horizon - a Neodrives test report
Where I live, every ride on a handbike inevitably turns into a training session. Cycling for pleasure looks different. But because that's exactly what I wanted to do, I had to find a solution. A good reason to take a closer look at the Stricker Neodrives.
Relaxed up the hill: With the Neodrives you can enjoy the beautiful aspects of cycling in peace. If I lived in the north of our country, somewhere just behind the dikes - this test would never have come about. But a blind fate brought me to the south of the republic, where the landscape is not flat like a board, but hilly and mountainous. Before I became a wheelchair user, I used to cycle a lot with my racing bike. At that time I found the topography of my adopted home quite ok. Here and there a crisp uphill section, long downhill sections where you could simply "let it run", that added variety and it was also good for circulation. On summer nights and weekends, the obligatory "circuit around the block " quickly resulted in thirty to forty kilometres. Pretty soon after I started a new life as a wheelchair user, I wanted to pick up my old habits and cycle again - handbike, of course, but the main thing was to be able to make rapid progress with my own muscle power. First the wheelchair was equipped with an adaptive bike, later a recumbent bike was added. It's not that I didn't enjoy both of these things - but arm muscles are not leg muscles. On the flat, a recumbent bike is a great thing and is as good as a normal bike, not least thanks to its aerodynamic design. Things look different on the mountain. I was able to climb ten percent inclines in a low gear, but only very slowly, and the drudgery was no fun. On tours with pedestrians next to me, my brake pad function annoyed me. Then, at some point my handbikes started to gather dust. Maybe I should have thought about a power assist device on the front wheel, but other things came into focus and the cycling project was put on hold. That was years before the e-bike boom changed people's leisure habits. Today things look different. Nowadays, it's bikes without an engine that attract astonished glances and a lot has happened in the adaptive bike sector. At the latest on the day when my wife owned a brand new e-bike, I decided to do something about it. A phoned Stricker Handbikes and that was followed by a visit to a sales representative of the company, who took me on a few trial laps on various models. Two weeks later a "neodrives", carefully adapted to my wheelchair, was ready to test.
Practical all round
I was reluctant to give it back at the end of the test period, that much can honestly be said in advance. In a fortnight I had covered more kilometres than in the two years before, which was certainly due to perfect cycling weather. But one thing at a time. What I noted as a plus point right from the start was the uncomplicated way of assembly. Pull the handbike up to the wheelchair, tighten the two mounting clamps, push it up until the two clamps on the sides click into place with an audible click - and off you go. The undocking manoeuvre is similarly uncomplicated. Such an uncomplicated procedure is the basic requirement for such a handbike to be used for shopping in the neighbouring village or for a spontaneous visit to a beer garden, and not just for long tours. The Neodrives hub motor contributed by the company Alber runs whisper-quietly and flawlessly. Its support can be activated in three stages - Eco, Tour and Boost - and within these stages it can be increased fivefold. In combination with a Shimano 24 derailleur gear system, this results in a confusing number of driving levels, of which a fraction is used daily with a little practice and this fraction is sufficient for all driving situations and terrain profiles. I never used the small chainring, the middle one was enough for ten percent inclines with moderate support. As a paraplegic, I also have unlimited arm and hand function. Even quadriplegics should be able to cope well with the range of possibilities offered.
Prudence is required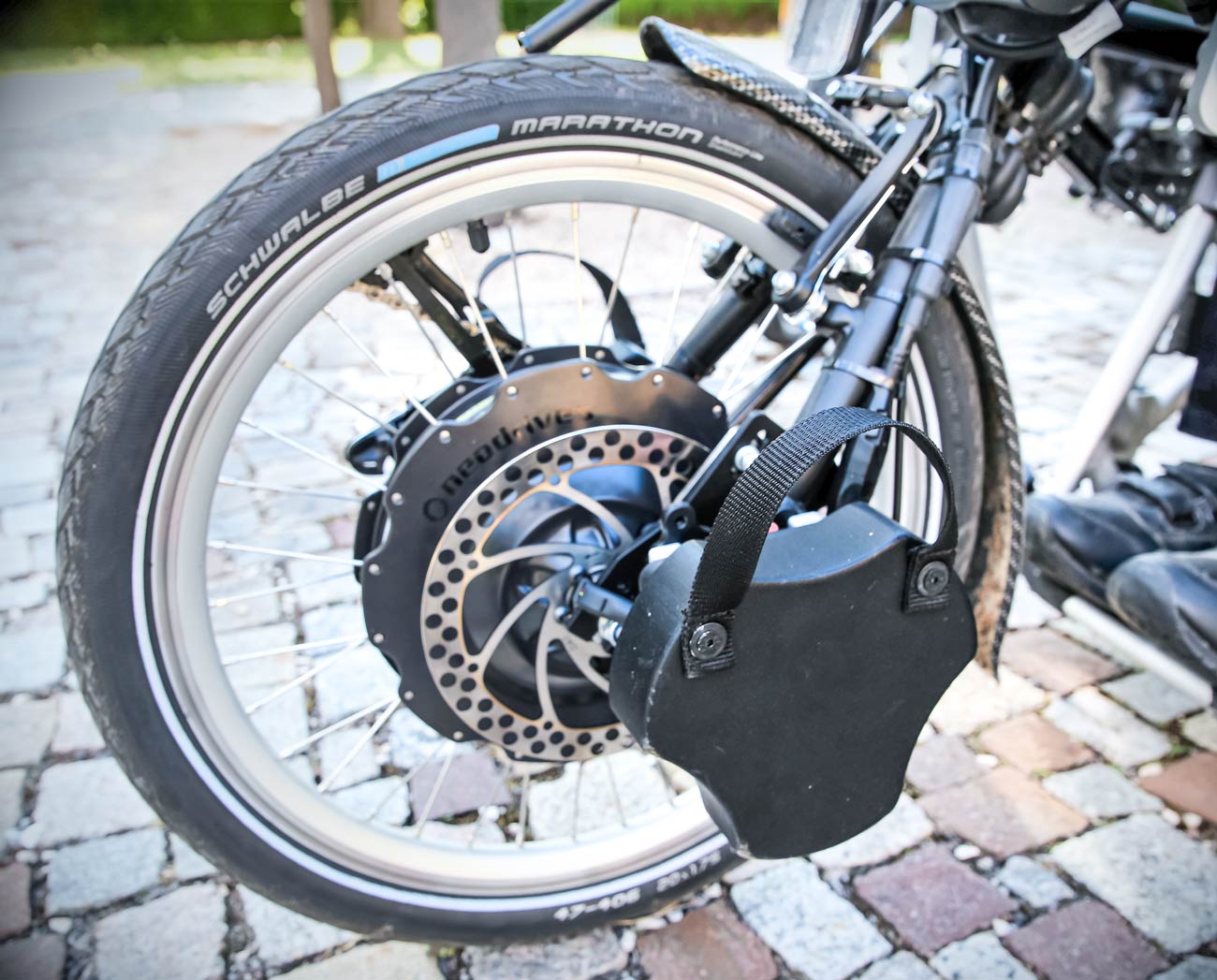 Anyone who shakes their head in amazement at the fact that nowadays even frail-looking pensioners are turning cycle paths into death zones with highly tuned e-bikes should also approach the wheelchair counterpart of the e-bike with respect. The combination of Stricker neodrives and an active wheelchair has considerable potential. The effortlessness of the assisted propulsion tempts you to ride quickly. Unlike a conventional bicycle, however, the wheelchair-handbike combination has a somewhat tricky riding geometry. A curve that is taken too fast will quickly lift the wheel on the inside of the curve off the asphalt, and then the only thing that helps is to counter-steer. Provided that there is room for it. Braking manoeuvres also follow their own laws. The Neodrives is well equipped with rim and disc brakes, both of which are very efficient. But it is only the front wheel that brings the deceleration onto the road. In particular when the road surface is not completely grippy and/or there are steeper gradients, this can lead to tricky situations. This can be prevented by a forward-looking riding style. And the standard brake assistant, which uses motor resistance to keep the vehicle in check on long downhill gradients and also feeds recuperation energy into the battery. There is enough power available, thanks to the power assistance. But this quickly causes traction problems resulting in a spinning front wheel. Stricker therefore cleverly adds two five-kilo weights to the bike, which can be locked in place on the left and right of the wheel hub. They are a counterpart to the wheelbase extension which is also possible, i.e. moving the wheelchair's wheels a few centimetres backwards. However, the weights are more practical, work quite well and are an absolute must even on moderately hilly roads. Nevertheless, the combination of steep incline and loose ground reveals the limits of the system. Only alternative route planning can help here. In any case, classic cycling virtues are particularly in necessary on the mountain. The Neodrives has an output of 250 watts. It is therefore pointless to try to conquer inclines with electric support and a high gear. It is much more important to shift down in time and ride uphill in low gear, just as you would do on a bicycle without any assistance. It also saves battery power if there is a pulse-accelerating pressure at the crank.
The tank is large enough
The distance that can be travelled with electrical assistance is of course highly dependent on the assistance level chosen. In the lowest mode the display indicates a range of 120 kilometres with a full battery. This shrinks rapidly to 30 kilometres with full support in tour mode. These values are theoretical anyway. If you always adapt the assistance you require to your needs and are not travelling in the mountains, you can cover daily distances of 60 or 70 kilometres without completely using up your battery power. Recharging is uncomplicated. The magnetic plug of the charger practically automatically finds the correct position on the power storage unit. It is secured with a lock and easy to remove, so that it can also be charged in the house or hotel room without any problems.
A well designed, solid construction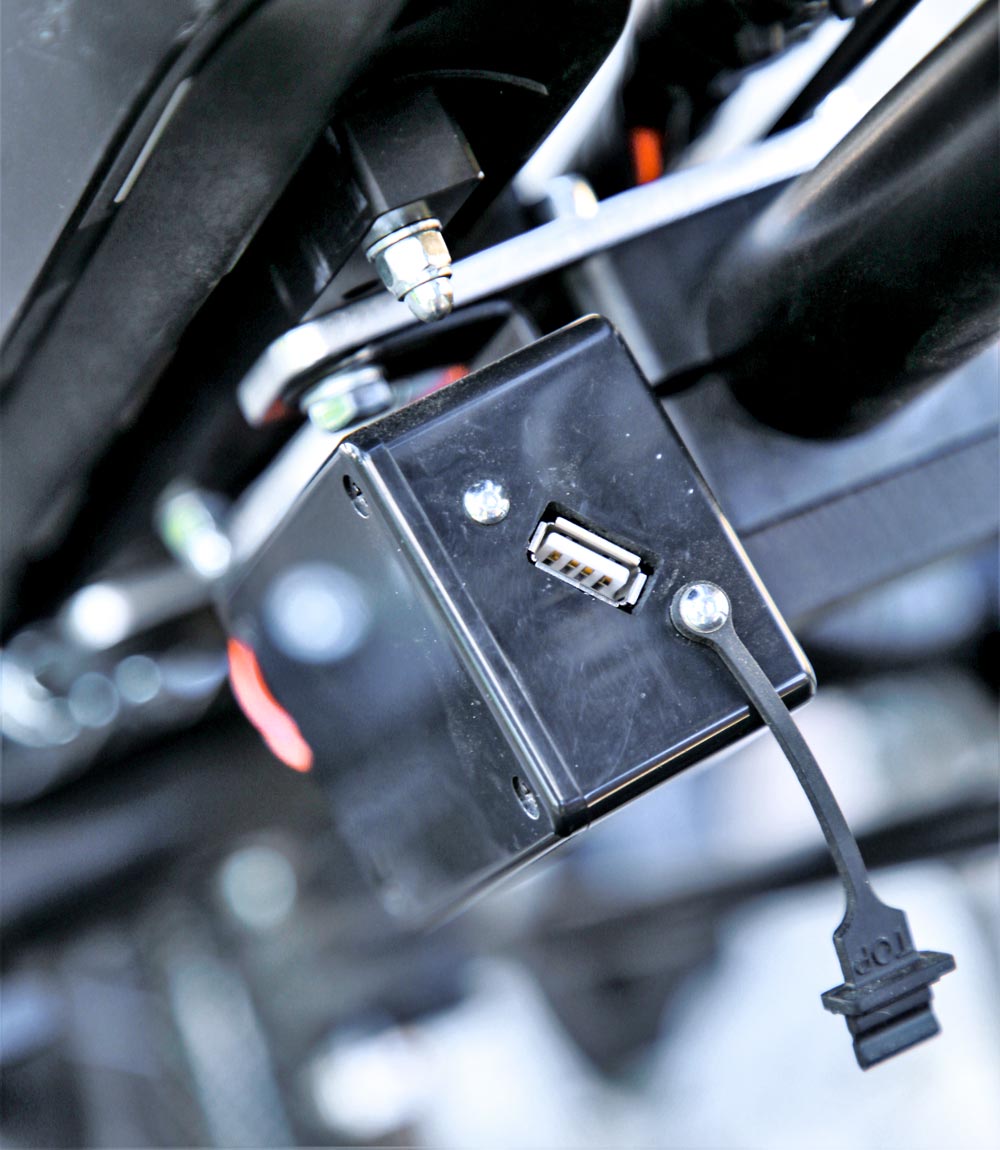 The connection between wheelchair and handbike: a clamp that ensures good frictional connection and enables quick attachment and detaching. All functions of the Neodrives handbike are controlled via a colour display with three control buttons on the left handle. The menu navigation is quasi self-explanatory, the display is high-contrast, the information provided is practical and there is nothing to complain about. This also applies to the entire construction and finishing of the adaptive bike. No savings have been made on components from bicycle construction such as brakes and gears. All kinds of add-on parts such as a practical kickstand construction, luggage rack or luggage basket and lighting make this model suitable for everyday use. The frame construction may not win a design prize, but it reliably fulfils its purpose. Above all, it offers many adjustment possibilities, so that with a little fiddling around, the optimum position can be found quickly. Of course - the combination of stem and wheelchair plus rider results in a vehicle that can only be compared to a "real" bicycle to a limited extent. Due to the length of the vehicle and the playing around that cannot be completely avoided even if the components are optimally connected in the overall construction, the user is inevitably faced with uneven road surfaces. On some rustic routes, which cyclists can pass at a brisk pace, I ride the Neodrives at a moderate speed to avoid being shaken too much. On the other hand, smooth asphalted economic and cycle paths are pure pleasure. After two weeks and two hundred kilometres I have a permanent grin on my face whenever I approach the Neodrives. While I used to plan my tours with my non-electric bikes way in advance, I now simply harness this thing and start riding. As in my earlier days as a racing cyclist, I simply rummage around in the area, spontaneously decide to take a small diversion, and in no time at all a short trip has turned into a 40-kilometre loop. I feel pleasantly exhausted at the finish, but not exhausted to death. This is the fun cycling I had been missing for a long time.
Freedom has its price
No question - I have definitely fallen in love with the Neodrives. In the end the philosophical question remains, why I will have to spend twice as much money on half a bicycle as my wife would have to spend on a whole one. Because while an impeccable mid-range e-bike is indeed available for 3000 Euros, you have to dig a lot deeper into your pocket for the Neodrives - a price for the individual small batch production. The test convinced me that this is a worthwhile investment.
We thank Mr Pohl warmly for this great report and valuable insights. A visit to the RehaTreff homepage is worthwhile, there you will find a lot of helpful information, news and interesting facts of the rehab scene. Click here to read more RehaTreff articles or to order the current RehaTreff magazine. A little tip: You can order one sample magazine once for free.